ALMOST $90K TO BREAST CANCER PATIENTS
WOODY'S 8TH ANNUAL CHARITY GOLF OUTING RAISES $13,687 FOR PINK RIBBON RIDERS
Hope, MI: Woody's Traction, the foremost manufacturer of snowmobile traction products, was able to reciprocate the support received from their industry and community by hosting their 8th Annual Charity Golf Outing at Beech Hollow Golf Course in Freeland, MI on August 11, 2017. Together, supporters helped raise funds through sponsorships, donations, and event participation to benefit Pink Ribbon Riders (PRR), which totaled in the amount of $13,687 at this single-day event. To date, Woody's has proudly donated almost $90,000 to their friends at PRR, which in turn has been dispersed to the many men and women suffering from breast cancer in their home state of Michigan.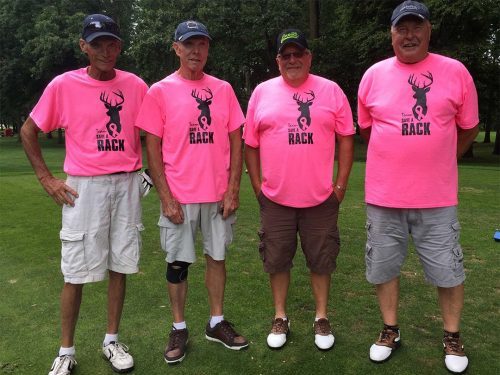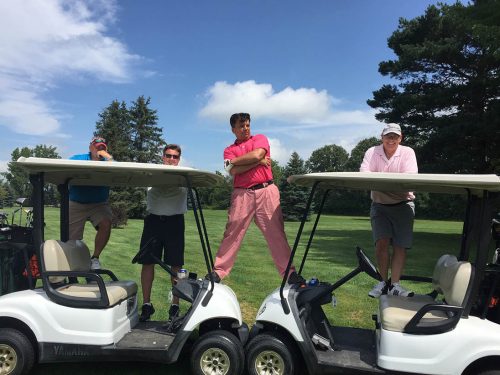 The PRR is a small, volunteer-based 501[c][3] non-profit organization that provides direct financial assistance to men and women diagnosed with breast cancer. Jody McKay, co-founder of PRR, expressed her gratitude by saying, "It is with great appreciation to Woody's, the participants, volunteers, and supporters for the continued support you all have given to the Pink Ribbon Riders over the years. It is always nice to see new faces at the event, but even better to see those once-a-year faces that feel like we are just long distance family when we see each other. Thank you from the 'bottom' and the 'top' of our hearts." More details on PRR can be found at www.pinkribbonriders.com.
Throughout the course of 18 holes were 50/50 drawings, silent auction items, hole prizes including a $10K hole in one (Sponsored by Diebold Insurance), a bake sale, a Buffalo Wild Wings betting hole, & a fun atmosphere. New to the event this year were 4 fish bowl prize drawings, which alone raised an exciting total of $1,860! To wrap up the day, Beech Hollow Golf Course fired up their grill to provide an outstanding chicken dinner to all participants, while a recipient of PRR, Melinda Davila, shared her battle of overcoming breast cancer. Photos taken at the event can be found on the Facebook page of Woody's Traction under the album titled 'Woody's 8th Annual Charity Golf Outing'.
Some event winners include: 1st Place Team – $480 cash: The Squad | 2nd Place Team – $260 cash: JB Racing(generously donated back to the cause) | 50/50 winners: Tina Wenzel & Jenna Pacek (both donated winnings totaling $1,132 back to the cause) | Skins – $520: JB Racing | Best Dressed 'Pretty In Pink' Team – Woody's Gift Certificates: Team CBP/MFE #4
Hole Sponsors: PNC Bank, Chemical Bank, Fullerton Tool, Endurance Carbide, MI Snowmobile Assoc., PCA, Cintas, XLT Engineering, E&D Engineering, Leader Tool, Members First Credit Union, Camso, Wayne & Carol Schulte
Donors: Arctic Cat, Beech Hollow Golf Course, Buffalo Wild Wings-Saginaw, Charter Steel, Cintas, Dan Dan the Mattress Man-Midland, EastEdge Graphics (Hole Signs), Eastman Party Store, Estey Supermarket, Fullerton Tool, Home Depot-Midland, Jim Noble, Katie Zawacki, KC Welding, La Londe's Market, Linda's Grocery, Pink Ribbon Riders, Polaris Industries, Scheuring Speed Sports, Ski-Doo/Dee's Marine, Soaring Eagle Casino & Resort, Team LaVallee, Tupes, Woody's, Yamaha
Volunteers: Liz Seelhoff, Tina Wenzel, Angela Brooks, Mark & Ruth Musselman, Jess & Tanya King, JoAnna Duby, Kali Wissner, Tom & Bobbi Jo Hoover, Katie Zawacki, BWW's
Woody's is the trademarked brand of International Engineering & Mfg. (IEM) with a mission to develop, manufacture, and market the highest quality traction & control products available. With a 50th Anniversary approaching in 2018, IEM thanks all who have supported them thus far, and looks forward to a successful future. For more information on Woody's, visit www.woodystraction.com.
THANK YOU TO OUR MANY SUPPORTERS!