Support


Plates

Support plates act as a fastening device for studs and are available in a variety of shapes, colors, and sizes. In order to be effective, they must be paired with the proper track, stud, and nut. Learn more below.

Shop Support Plates
Support


Plates
Support plates act as a fastening device for studs and are available in a variety of shapes, colors, and sizes. In order to be effective, they must be paired with the proper track, stud, and nut. Learn more below.
Shop Support Plates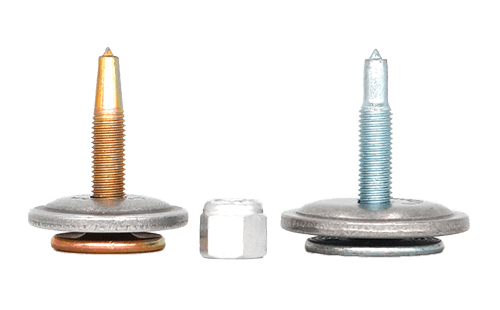 Woody's support plates:
Act as a fastening device for studs
Are composed of high-grade, lightweight aluminum
Disperse the load of pressure exerted on each stud
Are domed to trap the track and hold studs rigid
Must be paired with the appropriate equipment:

Single-ply plates with single-ply studs and tracks
Two-ply plates with two-ply studs and tracks
Hole sizes with corresponding stud shank size
Deviating from Woody's support plate recommendations can result in track failure.

Round
Suitable for most single and combination studding patterns
Quick and easy to install – no indexing required
Available in single-ply and two-ply styles
Available in 11 color options

Square
Suitable for all single and combination studding patterns
Excellent stud support
Requires indexing so edges of plate and track run parallel
Available in single-ply and two-ply styles
Available in 11 color options

Triangle
Increases performance
Eases track rotation
Requires indexing with Woody's Triangle Indexing Tool
Available in natural aluminum for two-ply tracks

Angled
Positions stud in a pre-loaded 7° angle for instant hookup
Requires indexing with Woody's Square Indexing Tool
Requires special instructions for installation
Available in natural aluminum for two-ply tracks

Double
Weight reduction: One double plate is lighter than two single plates
Increased scratch lines: Studs install closer together than with two single plates
Holds studs rigid
Available in single-ply and two-ply styles
Available in 11 color options